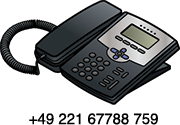 We are just a phone call away. You may call us at +49 221 67788 759, or simply fill out the form below.
If you are unsure, you may leave fields blank or enter a range that is acceptable to you.
You may also use our simple contact form to send us a message.
Your inquiry
 |  We answer every inquiry!